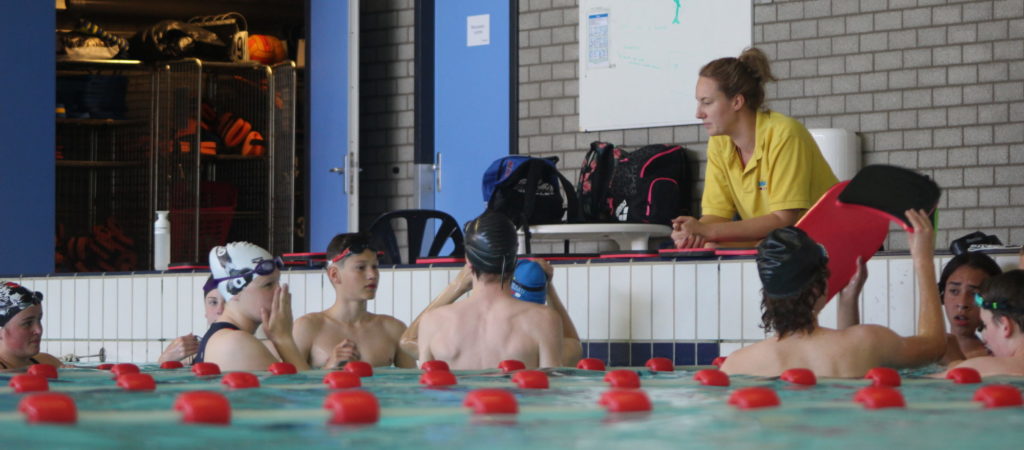 There are four swimming strokes in competitive swimming: front crawl, backstroke, breaststroke and butterfly. In order to compete well in competitive swimming, it is important that you master these strokes well.
It is therefore important if you do not yet have a C diploma to start with Zwemplan first. If you have a C diploma or the level of the fifth diploma of Zwemplan you can start competitive swimming.
All ages can participate in competitions. You train several times a week. You swim individually to improve your personal bests, but also in a team because you collect points together for victory in a number of competitions. You usually go to these competitions with a large group of swimmers and two coaches, so it's super fun.
There are about 10 swimming competitions per season. You meet other associations there, all of which also come with a group of swimmers, so it's a busy place.
In recent years, in addition to the 2 competitions we participate in, there was also a recreational competition, a nice stepping stone for the younger swimmers. In about 4 games you will get to know the officials, starting from a starting block and how to deal with winning and losing. If you are interested in competitive swimming, please contact our swimming secretariat for all information. As a club, we expect parents to accompany the group at least once. This means that you register the team with the competition management, that you are the first point of contact for our swimmers, that you ensure that everyone is at the starting block on time and that you give any necessary information. pass on last-minute cancellations to the organization.
Our youth committee organizes mutual club championships at least once a year. Everyone can participate in this, from swimming plan, water polo to swimming selection. A super fun evening where everyone can see how fast he is!
Just drop by to taste the atmosphere during a training and who knows, you might be the new Ranomi or Pieter van den Hoogenband.