Zwemplan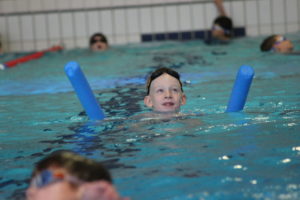 The Zwemplan has been set up for children with at least an A diploma to get acquainted with all facets of swimming. Lessons are given in a fun and varied way, by enthusiastic young people, who ensure that the swimming strokes are improved. They also introduce the children to lifesaving swimming, competitive swimming and water polo.
Several times a year it is possible to obtain a diploma for a new level within the swimming plan. There are 11 diplomas to be obtained that will make your child a real water rat.
After obtaining the 5th polar bear diploma (approximately equivalent in level to the C diploma of regular swimming lessons) it is already possible to enter competitive swimming or a water polo team, but most children complete the entire course because it just super nice and cozy.
The Swimming Plan App Group is for all parents of children who participate in the Swimming Plan. In this app group, questions can be asked regarding the swimming plan and other activities of Aquawaard. You will also be kept informed of holidays, etc. If you want to be added, please contact Margreet on 06 27 36 90 52 and she will ensure that you are added to the app group.